blacklisting CAs on Arch Linux §
People have been writing about how to mark the BlueCoat CA as untrusted on OS X and Windows. Most Linux distros do not have anything like that – although internally OpenSSL and Mozilla's NSS can store trust information (e.g. both Firefox & Chromium show DigiNotar as explicitly distrusted), the system-wide /etc/ssl/certs has always been a plain dumb whitelist.
However, a blacklist feature is partially present on Fedora and Arch Linux, which have moved from Debian-style ca-certificates tools to the new p11-kit. After Fedora's Shared System Certificates project (Arch switched to the same tools in 2014), all programs which use p11-kit will know about blacklisted certificates just as they know about trusted ones.
The process for marking a certificate as untrusted via p11-kit is:
Download the actual certificate (e.g. BlueCoat's) as a DER or PEM file.
Copy the file to /etc/ca-certificates/trust-source/blacklist/. (The path is different on Fedora; it's probably somewhere under /etc/pki/.)
Run update-ca-trust as root.
Firefox and Chromium will now show the certificate as untrusted: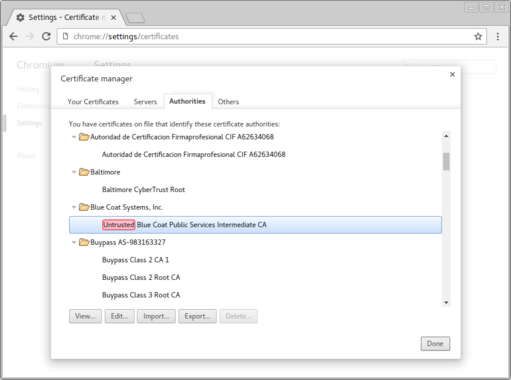 GnuTLS tools such as gnutls-cli also recognize the blacklisting and will complain that affected certificates have been "revoked".
In theory it should work with OpenSSL as long as the correct CAfile was specified. The existing default, /etc/ssl/certs/, is just a raw list of trusted CAs, but p11-kit also generates /etc/ca-certificates/extracted/ca-bundle.trust.crt containing trust information in OpenSSL's own format. Un­for­tu­nate­ly, even when told to use the new CAfile, OpenSSL seems to completely ignore the "rejected purposes" stored within. Oh well. Hopefully that'll get fixed sometime this decade.